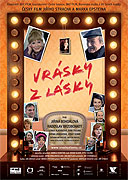 Vrásky z lásky
(OLDIES BUT GOLDIES)
Drama / Comedy
Czech Republic, 2012, 101 min
* The information on films and the photographs are
automatically generated from the csfd.cz database.
Ota je bývalý učitel a ve svém věku má již řadu vrtochů, kterými poněkud komplikuje život svému synovi a snaše. Nyní jej čeká náročná operace a Ota se rozhodne, že je ta správná doba, kdy je třeba vyhledat někoho, kdo kdysi dávno velmi ovlivnil jeho život. Setkání s herečkou Janou je ale poněkud jiné, než si představoval. Přesto je to právě tahle vitální dáma, která nemíní nerezignovat na aktivní život, která znovu zamotá jeho osud. Díky Janě se Ota vydává na napínavou road-movie, na jakou by si možná ani v mladším věku netroufl. A je to právě tohle důležité setkání, které oba utvrdí v poznání, že nejhorší, co může člověk udělat - je všechno vzdát!