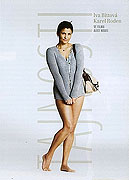 Tajnosti
(Little Girl Blue)
Drama / Comedy
Czech Republic / Slovakia, 2007, 95 min
* The information on films and the photographs are
automatically generated from the csfd.cz database.
Julie je žena, která má zdánlivě úplně všechno. Pohledného, movitého manžela, prospívající a dospívající dceru, nenáročnou práci překladatelky, která překládá ne pro peníze, ale buď pro radost, a nebo prostě jen pro pocit, že pracuje, a nyní dokonce i nový, vysněný dům… Ale také má v sobě tajemství, které se v tomto jejím idylickém životě pomalu mění v časovanou bombu. Někdy však dobře časovaná bomba může svým výbuchem a "pročištěním terénu" přinést ten největší užitek a naopak idylický život může být tím největším neštěstím, které člověka postihne, aniž by si toho vůbec stačil povšimnout. Když ráno Julie náhodně zaslechne zprávu o smrti své oblíbené zpěvačky Niny Simone, a vzpomene si na dobu, kdy byla mladá a vše bylo o mnoho jednodušší, zcela iracionálně se rozhodne koupit si piano. A tato nesmyslná mise, která ji odvede od bezpečné denní rutiny (a zdánlivě také od důležitých rozhodnutí, před kterými Julie utíká), se stane jakousi novodobou odysseou, ve které se Julii i celé její rodině změní od základu celý život."Pro mě ten film vypráví o hledání jistého bodu nula. Aby člověk mohl začít znovu, od nuly – to znamená s čistou hlavou a čistým svědomím, musí se nejdříve k té nule vrátit. Naše hlavní hrdinka tento bod nula hledá. Rozhodla se vyřešit svou budoucnost, ale zjišťuje, že pokud nedořeší svou minulost, jakákoli budoucnost je stejně předem odsouzená k polovičatosti," říká scenáristka a režisérka Alice Nellis."Je to tak hezký scénář, že když ho nemohu točit sám, chci u toho být aspoň jako producent," řekl o své účasti Jan Svěrák, který u projektu Tajnosti vystupuje v roli producenta.Roli Julie vytváří zpěvačka, instrumentalistka, skladatelka a herečka Iva Bittová, jejího manžela hraje mezinárodně nejúspěšnější český herec posledního desetiletí Karel Roden, dceru Cecilii Martha Issová, jeden z nejvýraznějších hereckých talentů mladé generace. Objevem filmu slibuje být mladá muzikálová hvězda, Miloslav König, který hraje i v úspěšné muzikálu divadla TaFantastika Obraz Doriana Graye. Snímek Tajnosti znamená návrat do českého filmu pro Ivana Fraňka, rodáka z Plzně, který však žije v Paříží a jako herec se objevil v řade francouzských a italských filmů.
CZECH LION AWARDS – AWARD WINNINGS AND NOMINATIONS
2007 | Best actress in a leading role |
Iva Bittová
NOMINATION
2007 | Best actor in a leading role |
Karel Roden
NOMINATION
2007 | Best actress in a supporting role |
Martha Issová
NOMINATION
2007 | Best film poster |
Jan Dobeš
NOMINATION